#5to10 Community Collaboration Place-Making Public Art Project with Hennepin Theater Trust
COMMUNITY COLLABORATION
I applied for this incredible opportunity, for an Interactive Public Art collaboration with Hattie Ball and Seth Gibson. We were accepted, with DAP, as part of a Community Collaboration Public Art Project. Part of a larger project; piloting a six-month project that pairs local artists with organizations that serve underserved communities to program unique activities as part of 5 to 10 on Hennepin.
Hennepin Theatre Trust, Southwest Airlines Co. and Project for Public Spaces (PPS) are joining together to create and activate public spaces in the WeDo™ MPLS Cultural District.
The 5 to 10 on Hennepin project will reimagine a five-block stretch of Hennepin Avenue between 5th and 10th streets as a vibrant destination for everyone to enjoy, activating one block at a time beginning August 18 through December 22. Our Interactive Public Art Project is going to be part of this place-making Community Collaboration.
CREATIVE IDEA
A purple ribbon is the only national symbol for survivors of domestic abuse. Offering participants a choice of drawing a purple flower or leaf creates visual identity and unity. Purple flowers and leaves drawn on iPads by survivors of domestic abuse will be turned into a blossoming field of flowers projected on a large building front, and 70" video screen in a street vendor tent (with DAP info). The projection and video will also include messages and statistics about domestic abuse. When a person donates a dollar (most of $400 budget is for "free community dollars") to the DAP, a digital bee will pollinate the purple flower creating a generous visual display. People are also able to experience the purple flowers, leaves, bees, and pollen in Virtual Reality! An immersive journey through a purple flower world and facts of abuse allows for intimate empathy building. Google Cardboard VR headsets (donated by Northern Spark) will be available for the public to use during the launch at the "Purple Flower" street vendor tent. Social media will help create community and global support by contributions, personal stories, and drawings #purpleflower #supportsurvivors
PARTNERS
Winner of #Extra100MN $100 Grant from @USBank
Ana Mendieta and Silenced Women Artists
For the second DAP+ I changed gears a bit. No more duct-tape flowers but thinking more about museum content.. We explored Ana Mendieta, viewed her works and talked about the #WhereisAnaMendieta protest at Tate. Finally, we imagined ourselves as part of our personal and community natural landscapes, or assumed earthworks. Inspired by the works of Ana Mendieta, and drew on iPads. For most participants it was their first experience creating art using creative technology.
The First DAP+ ARTLab Project!!!
March 19, 2016 was the first DAP+ ARTLab. It was really fabulous!! I was super excited to have a great group including: participants, staff and intern that joined me. I was especially pleased by the work produced, and warmth shared, by the Woman's Group - they even have a Mascot (which of course I'll work into a future project). We created a Cherry Blossom Mural with LED lights, duct-tape, balloons and die-cut linen blossoms. We also drew on iPads with #DrawArt. Thankful for the generosity of a donated iPad, I had enough so that two women could draw at a time. Each drawing was projected up on the wall while it was played-back and viewed by the group. It was special to watch each one blossom. I invited the group to download the drawing app Doodles, (free from Appikiko), and urged them to share it with their kids until we meet next month. I edited their digital drawings together into a video that will be included, as one example, at Creative Tech Week NYC, of how new technology may help contribute to a better world.
Video: Cherry Blossoms
Photos: Cherry Blossom LED Mural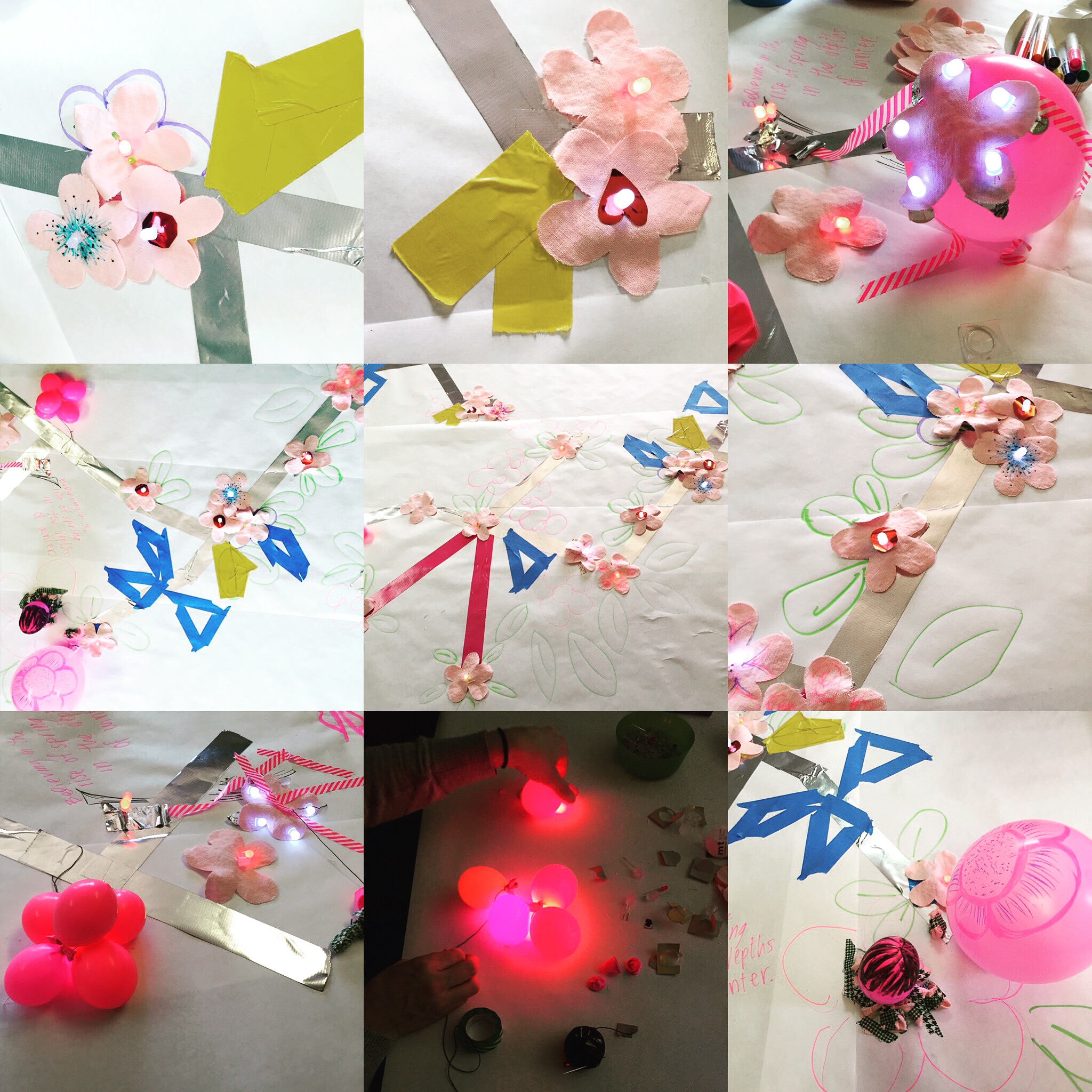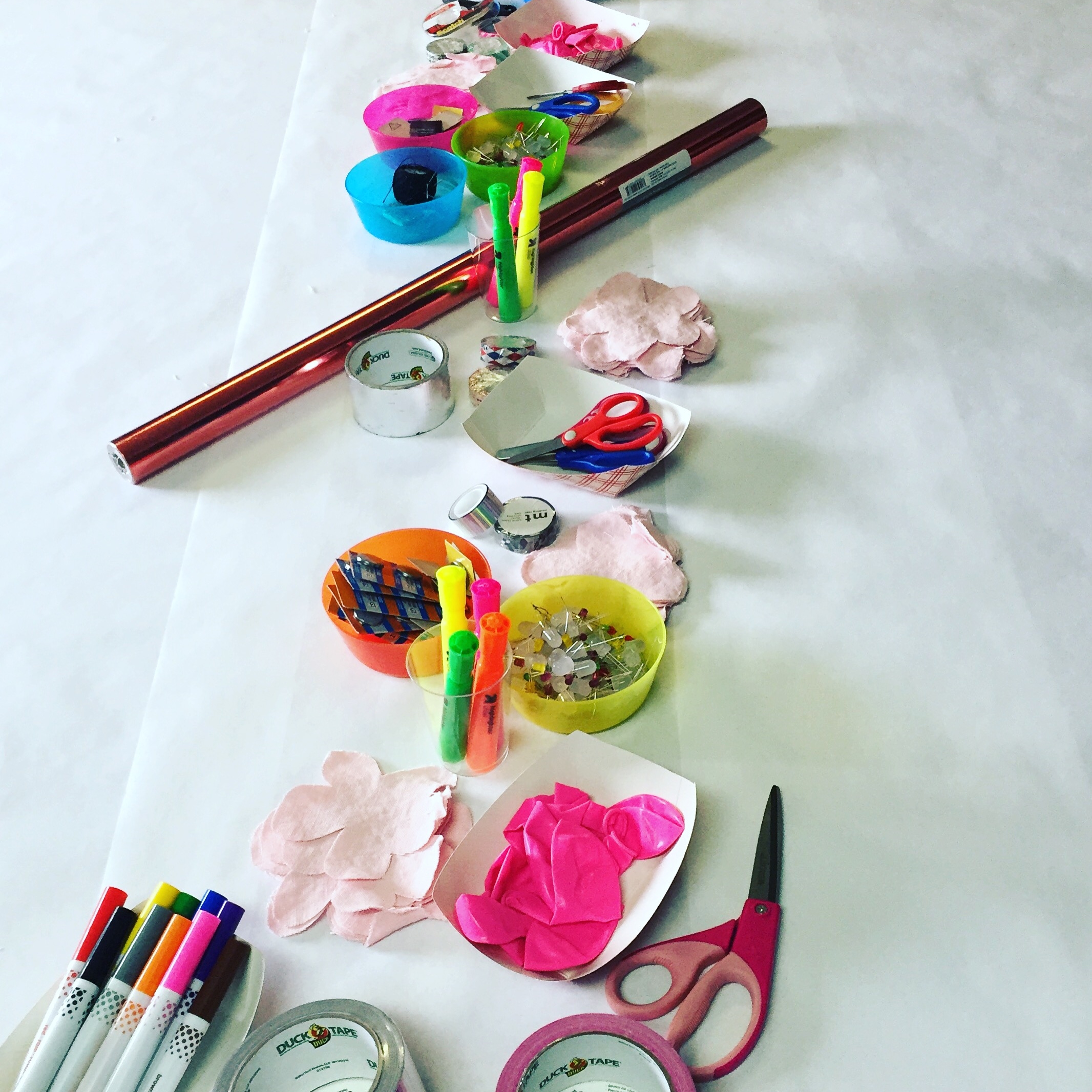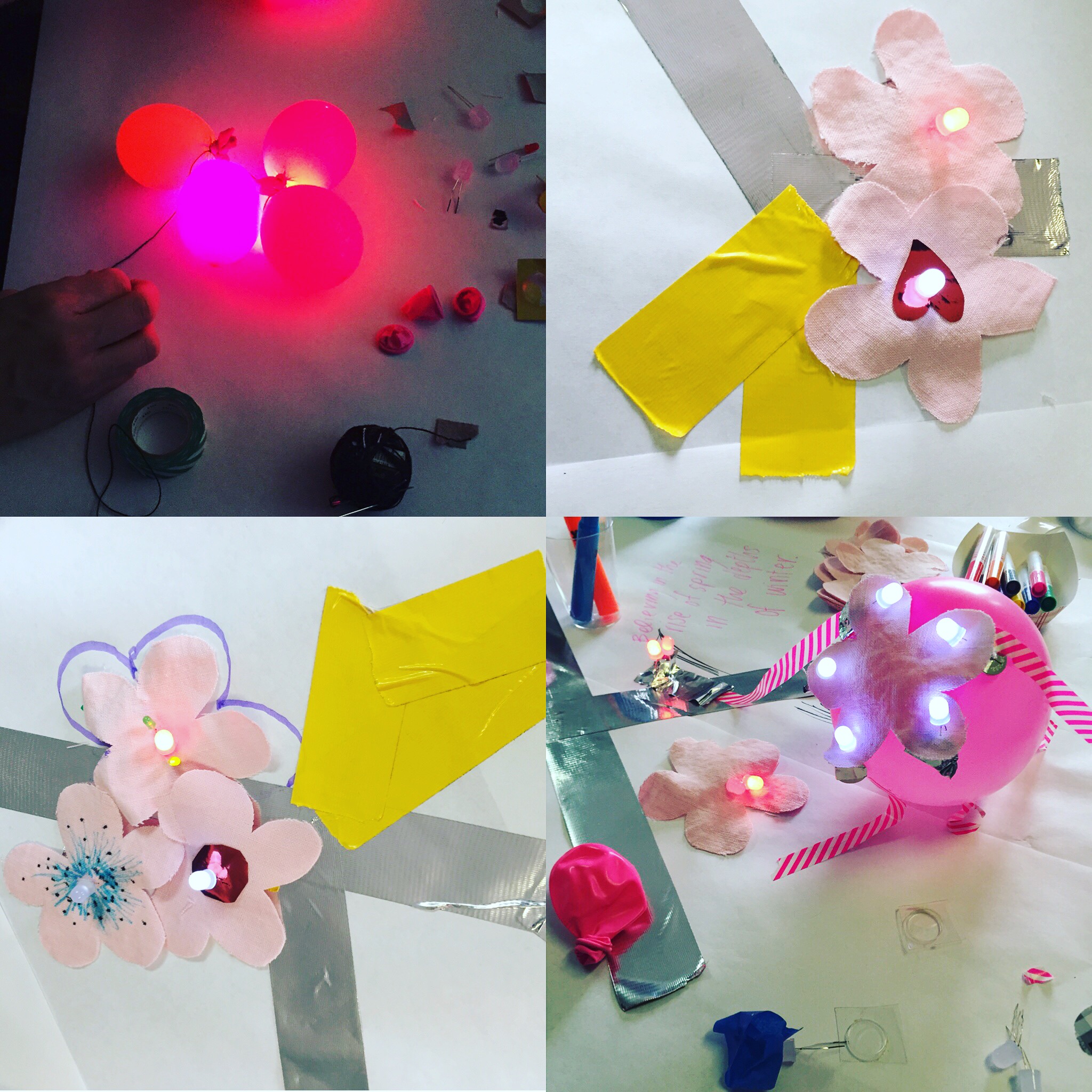 Reaching Out
Nov 14th, 2015: Reaching out. Today I visited the Domestic Abuse Project to see how I may work as an Artist/Gallery to contribute to healing with a Digital Art Project. A mobile phone may be a life-link of connectivity, witness and creating community in new ways and drawing on pads/tablets may help facilitating modes of art therapy, process trauma and PTSD for adults, teens and youth. This is the start of a commitment I am making to act as a creative advocate for Domestic Abuse Survivors.
I'm Not Alone..
Jan 22nd, 2016: We scheduled another meeting at the gallery to talk further on the plan. Ive started collecting boxes from UPS next door to the gallery (every day at 3:30pm). Ive also started talking about the project more and realizing that many other Artists I know have experienced spousal/relationship abuse, or witnessed their parents, or experienced child abuse. I experienced spousal/relationship abuse and see that other Artists I'm meeting have similar patterns, issues in dating, PTSD, and other symptoms left untreated and repeated, like me. I'm now asking them to join me - in some way to work with, be apart of this so we don't just sit isolated and silent but give a voice to our stories, and with Art, help others and ourselves have an opportunity to heal.
DAP+ ArtLab
Feb 4th, 2016 - New Plan: The professionals at DAP and I want to get people slowly introduced to working with me and the arts program. Before I collect a ton of boxes, I'd like to see what the people who come actually enjoy doing and go from there. So at first step is to create a mobile Art + Tech Lab, inspired by the work of the Former Founding Manager of the MediaLab at the Metropolitan Museum of Art., Don Undeen. Inside of a plastic tub I will keep art and tech materials. Every third Saturday, starting in March, I will visit for 2 hours. Anything we make will have some kind of tech added to it, even at first if its just social media based to get us all connected and sharing/liking/friending together.
I was told that they like making collages... collages? no problem!
Feb 16, 2016: Please consider donating an iPad. Each of the 20 participants in the weekly art therapy sessions should have one to draw on during our sessions. The iPads will also be part of the DAP+ ArtLab. Every participant will ultimately have access to new technology for healing, learning, and creating new life skills for creativity, coping and career. For your generous donation you will receive a Donation Receipt and a Thank-you Gift created on the iPads by the participants. You will also be invited to a Special Event for DAP+ held at the new GalleryPaige in the downtown Minneapolis City Center building.
Please mail iPads directly to: Paige Dansinger, 1201 Yale Place #803, Minneapolis, MN 55403
Volunteer Training
March 16, 2016: This past Saturday I experienced the Volunteer Training at the DAP. Its super to have the opportunity to learn so much about their program and that there are some positive outcomes to it. I learned that some men (will have to find that statistic) who go through the entire program have a reduced rate of abuse that leads to lethality, thats good news. It is a program that not only helps women and children, but also with learning and support some of the men reduce the cycle of abuse. The first DAP+ ArtLab happens this Saturday!!
I have been processing my own emotions surrounding this project and my own experiences as a survivor of spousal abuse. I understand that through this work it is inevitable that I both have emotional challenges that are negative and positive. Healing is not easy. However, I am not there in the direct role of needing to be healed. I was lucky and have had the continued love and support of my family over the years. I am presenting myself there to provide an Art + Tech Lab Experience, and any subsequent personal processing and healing work will just naturally happen. So I have been paying more attention to self-care. I'm sleeping more, eating healthily, running each day and working on as many projects that include and empower marginalized voices, while highlighting Feminine Identity in Arts and Technology.